Microtheatre amongst vineyards
Microtheatre amongst vineyards
(Activity in Catalan)
Theater among the vineyards: a tour through three spaces of the winery transformed into stages for micro-theatre works
Alta Alella offers "Theatrical MicroSensations", a circuit of microtheatre in alternative spaces, in which we will have the opportunity to take a tour of various spaces of our estate (in the cellar, in the cellars or among the vineyards) transformed into theatrical stages, and enjoy three small pieces of theater paired with wines and cavas from the winery.
This proposal prioritizes the sensations of actors and audience, both outside their everyday space, above the more careful aesthetics that normally require a show in use, playing to be part of what is happening and that is not will repeat again. All in all, in a privileged and intimate environment in the middle of the Serralada de Marina Natural Park.
Throughout each show, you will enjoy a glass of wine with the entertainment of our team of sommeliers.
The shows that can be seen are:
-
Tunguska
, written by Francesc Cutchet. Interpreted and directed by Eulàlia Figuerola and Jordi Torras from Tres Homes Grossos.
Everyone knew that the end of the world in the form of a meteorite was coming.
They even knew the time, the precise moment of the inevitable impact. Everyone had resigned themselves to fate, everyone except him, Santi, who had faithfully prepared to survive, together with his partner, Ester.
We will witness the final preparations before the impact..., but there are always those unforeseen events that chance gets in the way and can ruin our goals.
Tunguska, before and after the impact...
-
Everything depends on the timing of David Ives
. Performed by Manel Romeu and Ritxi Olivé, and directed by Miren Jalón, from Qualia Teatre.
This piece represents a fortuitous meeting between two characters, Guille and Biel, whose conversation tells us how making one decision or another can influence our lives.
What would have happened if...?
Where would I be today if I had done the other instead? All the decisions made in our life have led us to where we are today. Simply: it all depends on the moment.
-
A hat to put on my head
, free adaptation of "The Hat Shop" by Karl Valentín. Performed by Diana Aymerich and Atria, and directed by Gràcia Esparza, from Estrellades Teatre.
One fine day, in Claudia's hat shop, a somewhat strange customer walks in... She says she wants to buy a hat, but nothing is what it seems, as the two will discover, until they reach a surprising outcome that will change their lives. Or not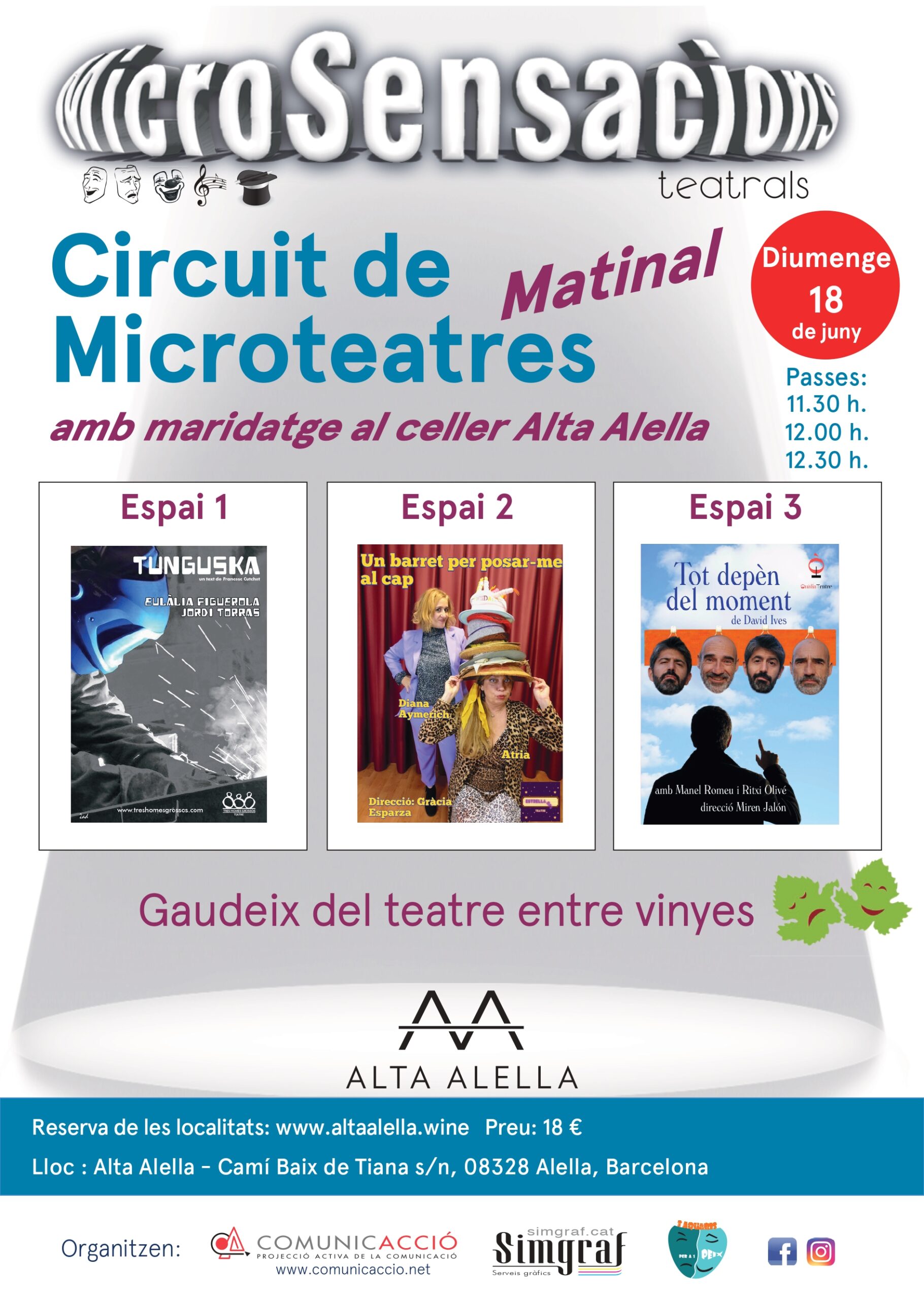 3 h
Cat Cast
phone.: +34 628624182 email.: visita@altaalella.wine